Doug Flannery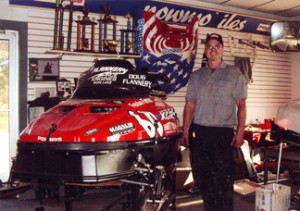 Doug Flannery was raised on a dairy and fruit farm south of Grand Rapids, where apple trees and hard work was the norm. His school years were full of repairing farm equipment and making 1970's motorcycles and snowmobiles travel faster than they should.
Doug became a master in the small engine class at Byron Center High School in 1977. It only took about a week for him to prove his extraordinary talent of engine anatomy. The teacher gave him many projects to tackle from the teacher's own snowmobile shop just to keep him from getting bored and to keep Doug busy. At the age of 15, and to disbelieving eyes, he could pretty much repair or replace any engine he was given to work on. He had the uncanny knowledge that allowed him to figure out what was wrong with the machine and how to repair it to make it run even better. Moving on the the Kent Skills Center, then to Gar's Polaris & Honda, he ended up setting up shop in his dad's garage on the farm while still in his teens. This soon became known as "Doug's Place" the place to get your engine fixed right.
He knew that engineering and racing was in his blood, but modifying engines for racers was a bigger challenge and greater reward. His new found respect by the racers had him moving to Gun Lake to set up his own speed shop called Flannery Performance. His shop soon became known around the world as the place to have your engine modified whether it was a bike, snowmobile, three wheeler or four wheeler.
xThe racing circuit soon realized that Doug knew his speed tricks well. He would modify with a purpose and for a certain speed, whether it was for 500 feet or 500 miles. Word spread quickly. From the east coast to the west coast, Canada and Europe racers discovered that his dyno-tested mod engines were the best and would last. True racers found that when he spoke, you had better listen close, because he would only say it once. In 2003, there were 15 Flannery engines at the Soo international 500.
He gained increasing popularity and was called on for advice by famous people in the racing industry for engine, clutch, bike and snowmobile modifications. People like Larry Rungland from Rungland Industries, Polaris engineers, Jim Joliffe (inductee into the Eagle River Hall of Fame) from Micro-Belmont Engineering, (and the list goes on) all contacted him for engine modification information or specialty work. They knew that Doug had the answers they were searching for to achieve peak performance.
In 1998, Todd Krikke, who was recently inducted into the Michigan Motor Sports Hall of Fame, running a Flannery modified engine, set a 95.12 mph qualifying time at the Soo International 500 time trails. His record still stands today thanks to Doug's modified dyno-tested engine. There are a number of race teams who placed in the top ten at the Soo International 500 in the past 10 years.
Doug Flannery is an engineering genius. One with a quiet, humble demeanor and is certainly one of a kind.