Ron Flinn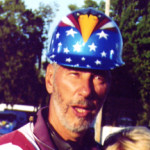 Ron Flinn became involved with racing when his younger brother Bob started driving race cars at the Ionia County Fairgrounds in the late 1960's. It wasn't long before Ron began assisting the fairgrounds in the operations of demo-derbies, and shortly after became coordinators of those demos.
Ron became the used car manager at Coe Pontiac in Ionia in the early 1970's. The dealership moved to 28th Street in Grand Rapids and he continued with them until 1987 when he retired.
In 1977, he and his twin brother Roger became the promoters of the stock car races at the fairgrounds. They did so for five years. They got the chance to take over the former Clarke's Motor Speedway in nearby Lake Odessa in 1982 and moved their operation there. They renamed it to Ionia County Speedway. Roger stepped away from the track in 1985 to devote more time to his excavation business. Ron's last year of leasing the Lake Odessa track was in 1987, as the new owners decided to promote the track instead.
Ron also did two years consulting at other tracks including Mount Pleasant Speedway.
Ron did the public relations for Ray and Pat Fricke at Crystal Raceway in 1989. He began leasing the track from them starting in 1990.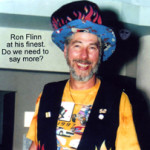 He purchased Crystal the following year and has since reverted it back to its original name of Crystal Motor Speedway. He has made numerous improvements including a new concession stand and souvenir buildings, as well as a new VIP tower. He was the first track in the state to mandate mufflers. He was also the first short track in the country to have transponders for timing purposes.
Ron has been named "Promoter of the Year" from both the Michigan Speedway Promoters Association and the "Michigan Auto Racing Fan Club". He is currently on the board of directors for the MSPA.
He has been married to Mary Jane for four years. She has assisted him in the day-to-day business of running a race track for a number of years.
The six foot eight Ron towers over most of his friends and customers and has also been involved in basketball ever since his freshman days in high school. He currently plays in three leagues called "Senior Olympics", and also plays in tournaments throughout the country. One of the team he's with plays in the held in Saint George, UT each year. Their team, which has to be 60 years old or older finished second in the "World Senior Games" the first try.