Canfield & Johnson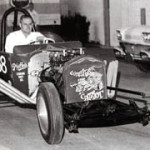 Noah Canfield and Charlie Johnson are both Michigan natives born in the 1930's. Noah began his involvement with motor sports in 1952 when he drove modified stock cars at such Michigan oval tracks as Capitol City, Mason, Motor City, Detroit, and Crystal Lake Speedway. In 1954, Charlie Johnson and Noah competed at the Bonneville Salt Flats with a C Coupe & Sedan-classed, Cadillac-powered '53 Studebaker, sharing the driving, and carrying their class for 5 of the 7 days of Speed Week. Together in 1955, they formed their legendary partnership in Drag Racing. Charlie had an Olds-powered, steel-bodied roadster he called "Charlie's Chariot". With both sharing driving from time-to-time, it was then decided that Charlie would be the primary driver. They did very well at a NHRA National event in Detroit during the mid-fifties, until disaster struck with a wiped-out camshaft in the semi-finals. Noah remarked, "that the only good thing that came from that event was some early national exposure on two different record album covers using photos of the car".
After that event, Noah realized that they could become well-respected competitors and have a successful career in drag racing. What was needed was a better, faster racecar. They started with the idea of building a dragster like everyone else had, but then struck upon the concept of putting a streamlined fiberglass roadster body onto a legit dragster chassis. Noah's thoughts at the time were that while still competing directly in the dragster classes, "we would come off looking like the underdog". Thus was born the Legendary "Glass Chariot", sponsored of course by Noah's own business, Capitol City Speed Shop in Lansing, MI. Initially, NHRA had no class in which to put this new 394 Olds-powered "dragster/roadster hybrid", so they had to compete directly with the dragsters. That became to be a blessing in disguise. As they could run head-to-head with the best dragsters of the day, track promoters loved to book them into special match races to wow the fans with this wild little "roadster/dragster" taking it's share of wins from the dragsters. On July 11, 1961, they set the Drag News Magazine 1320 National Record at Onondaga Dragway, 8.57 seconds @183.67 mph. They backed those numbers up in that same year at the then, brand-new Martin, MI Dragway. This was on gasoline, and the record stood for over a year. Also 1961, they ventured to Cordova, Il; winning the World Series of Drag Racing, and to Smithfield, TX where they were Top Eliminator runner-up to Don "Big Daddy" Garlits.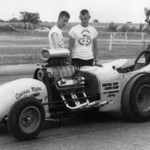 In 1964, the team decided that it was time to go faster, and they gave the "Glass Chariot" to a young fellow drag racer from the Lansing area whom they had been teaching and coaching, none other than Top Fuel legend and 1993 Michigan Motor Sports Hall of Fame inductee, Dick LaHaie. The "Chariot" gave Dick his start to fame. The very first run with their new nitro methane-burning dragster, netted a speed of 197.75 for Canfield and Johnson. Very soon thereafter, they were among the first to enter Mickey Thompson's famed "200 MPH Club". In that season, they also won the famed 1964 Bakersfield, CA. Smoker's Meet, defeating the best dragsters in the nation to do so. By 1969, Noah sold Capitol City Speed Shop and moved to Florida, where he has retired from the hotel brokerage business. Charlie left the sport about the same time to pursue a career as a Master electrician, and is now retired in Michigan. Canfield and Johnson were one of early, important, pioneering Drag Racing teams from Michigan, and true legends of the sport.
Noah Canfield died after a battle with cancer on July 3, 2011.