Harry Foote Jr.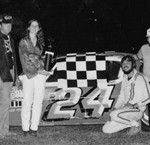 Harry Foote, Jr. began his distinguished racing career at the tender age of 12, when he and a childhood friend built their first race car, a 1953 Chevrolet with a 6-cylinder motor, with no adult help. Since Harry was too young to drive the car, he hired a host of local drivers, including his father Harry Foote, Sr., Bill Cox, Junior Sinclair, and others to drive the car for him.
Racing was a family thing to do; dad Harry, Sr. raced for over 37 years, brothers John and Danny have both won championships. Both of Harry's sons, Todd and A.J. have carried on the tradition, each winning multiple championships themselves. Continuing the family tradition is Harry's grandson KC Foote, who is now entering the racing scene in the Pure Stock Division.
Harry continued to build cars until he began driving at around age 18, driving for Don Cunningham. He has worked in nearly every aspect of racing: driver, builder, mechanic, car owner, and still enjoys the process of building and setting a car up so that it will be competitive. Harry has partnered with John Shipe for many years; this partnership has resulted in a varied and exciting career boasting over 250 feature wins, countless heat and other wins, as well as 8 championships spanning a 30-plus year racing career that continues to this day. These wins are in several divisions, from outlaw late models, modifieds, late models, and even the old 'flying stocks', comparable to today's street stocks.
At the time Harry began racing, season points championships weren't as emphasized as much as individual wins. Even so, he has 8 season championships, spanning a time period from his first season championship at Galesburg Speedway in 1977 to 2004, where he won the championships at both Calhoun County Speedway and Spartan Speedway, and in addition won the "Six-Pack Shootout", a six-race 'shootout' run at both Calhoun County and Spartan Speedways, unrelated to the regular season championship. He has won over 200 features in his career. In all, Harry estimates that he has run at over 30 different tracks, some which have since closed down.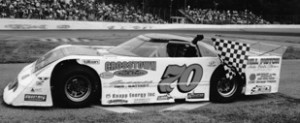 Racing has given Harry many special memories. He is a two-time winner of the Paul Beebe Memorial Race at Galesburg Speedway, a three-time winner of the Harvest 100 at Spartan Speedway, and winner of numerous season championship and other races at tracks over southern Michigan, Indiana and Ohio. In addition, Harry was named Sportsman of the Year at Galesburg Speedway for the 1986 season.
One weekend Harry is particularly proud of took place around 2002, when he won the Harvest 100 at Spartan, less than 24 hours after winning the season championship at Kalamazoo Speedway. Both races were run in the same car, further showcasing Harry's talents both in the pits and behind the wheel.
Harry credits his wife Marge for at least part of his success; for the 35 years of their marriage, she has always gone to his races; in fact, Harry does not race if Marge doesn't attend! For her part, Marge has enjoyed the travel, and has friends at many of the tracks she and Harry visit.
Harry Foote, Jr. ran a full 2007 racing schedule, this time in the modified division. Harry is considering retiring after the 2007 season, but as he says, "You can't really decide until after the season ends."
Harry was the 2007 Kalamazoo Speedway Modified champion.