Carl Forberg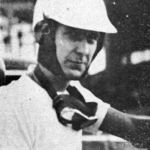 Carl Forberg's racing career continuously spanned over 40 years, with the only break being during the war years. Carl Forberg was born March 4, 1911, in Omaha, Nebraska, where he began racing motorcycles in 1928. He was successful from the beginning and soon specialized in hill climbing. As an expert rider, over the next seven years, Carl won many events in Kansas, Illinois, Iowa, Wisconsin, Minnesota, Pennsylvania, and Nebraska.
In 1935, Carl grew interested in midget racing and built his first racecar using a motorcycle engine. By 1936 he was firmly entrenched in midget racing and won the track championship at Sioux City, Iowa.
Seeking to compete among the best, Forberg headed to the East with his midget. While headquartered at the famous Patterson, New Jersey Gasoline Alley, he ran five or more races per week at most of the popular midget tracks in the East. This circuit included the high-banked board track at Nutley, New Jersey.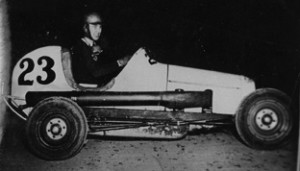 When the midget racing of 1939 completed its East Coast series and moved to the Michigan Ohio area, Carl headquartered near Detroit to run the circuit. Forberg liked the location and tracks so well, that he made Warren, Michigan his home.
After the war years, Carl built a new Offy midget and campaigned the Michigan, Ohio, Indiana and Illinois circuit that was the proving ground for so many of the great drivers of that era. Drivers like Tony Bettenhausen, Sam Hanks, Henry Banks, Art Hartsfield, Johnny Wohlfield and a host of other legendary racers made up the fields that ran five or more nights a week. In 1946, Carl won 35 main events on this circuit. In 1948 he won the Motor City Championship and 37 main events, including seven feature victories in a row on various tracks.
In 1951, after losing parts of the 1949 and 1950 seasons due to injuries suffered at a Chicago race, Carl, in the Auto Shippers sponsored Indy car, qualified 27th for the 500. He finished the race in 7th place, at the age of 40.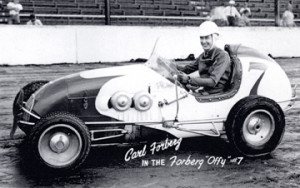 In 1952 Carl suffered a back injury in a midget race and retired from driving, but that did not lessen his interest in racing. He began his role as a car owner.
A list of drivers that have wheeled Carl Forberg's midget and sprint cars includes many of the greats from three decades of open wheel racing. This list would also include many names of obscure or long forgotten drivers, as Carl is a man who would give new talent a fair chance. As a car owner, Carl has won some impressive victories, including the 1954 AAA Midwest Midget Championship with Rex Easton driving. Ronnie Duman won the prestigious Hut 100 in Carl's car in 1954. There were numerous other victories with other drivers. But the winning was not racing's sole attraction for Carl. The challenge, competition, and friendships fed his desire to be in the race.
Although Carl sold his last sprint car three years ago, he still frequents racetracks throughout the country. As this is being written, he is driving to Florida to watch the sprint car series and keep tabs on his son-in-law Pancho Carter's fortunes at Daytona.
Carl Forberg died on January 17, 2000 (1911 - 2000).