Henry Ford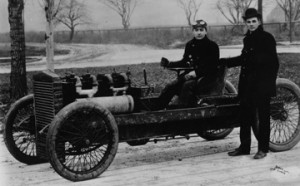 Henry Ford's beginnings were closely tied to racing cars. Henry Ford himself drove only one race, on October 10, 1901. He beat Alexander Winton at the Detroit Driving Club, a one-mile dirt track at Grosse Pointe, Michigan in a ten-mile race. His winning time of 13:23.8 or 44.8 MPH won him $1,000 and a cut glass bowl that he kept in his home as a trophy. Upon Ford's death in 1947 the bowl was inadvertently shipped out and sold. When knowledgeable officials realized the tragic error, they successfully tried to track it down, but it was lost forever.
Shortly after the 1901 race, Barney Oldfield came into the picture. Henry Ford's 999 was the first race car Barney drove, and he won his first race in it and so Barney Oldfield became famous because of old 999. Later in life, Ford said to Oldfield, "You made me and I made you." Barney replied, "I did a damn sight better for you than you did for me."
On October 25, 1902 Barney Oldfield became the first man to lap a mile track in less than 1 minute in Henry Ford's famous #999. During the winter of 1903, Henry Ford set a world's record one way run on the ice of Lake St. Claire, at 91.3 MPH.
Ford brought out the slogan, "Watch the Fords Go By," as he sponsored the winning Ford in a 24-hour race at the Detroit Fairgrounds in June of 1907. A coast-to-coast race was run in 1909 and a Ford Model T crossed the finish line first on June 23rd covering 4,106 miles in 22 days and 55 minutes.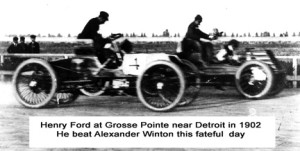 Throughout the years, Henry Ford kept in touch with the Indianapolis Motor Speedway and in 1924 he acted in official capacity at the 500. He also took out a $10,000 life insurance policy for every driver that year.
During the 1920's and 1930's, Fronty Fords raced with pretty fair success on tracks ranging all the way from county fairgrounds to Indy. In 1935, Preston Tucker sold Henry Ford on a plan with which to win the Indy 500 $75,000 was budgeted during a time when the depression was in full bloom. Ten cars were constructed, but the downfall of the project was in the approval coming so late from Ford that an engineering error could not be corrected in time.
Although there was no factory participation, the flathead Ford 60 became one of the popular engines for those racers who couldn't afford an Offy for their midgets.
After Henry's death on April 7, 1947, Clay Smith headed up a Lincoln factory team and dominated the Mexican Road Race for several years in the early '50's.
From there, Ford's racing involvement went into NASCAR's Grand National events. Funneled through Pete DePaolo, the Ford beam utilized such drivers as Paul Goldsmith, Fireball Roberts, and Curtis Turner. Just to name the drivers gives an indication how successful the program went.
The year was 1963 and the scene was Indianapolis. This year was the beginning of the end for the front engine Offy Roadster. For finishing second was Jim Clark in a rear engine car powered by Ford. The year of 1965, 1966, 1967, 1969, 1970, and 1971 were to be Ford victories at Indy.
Henry Ford, born on July 30, 1863, not only put America on wheels, he unknowingly put us behind the wheel of a racecar (1863 - 1947).